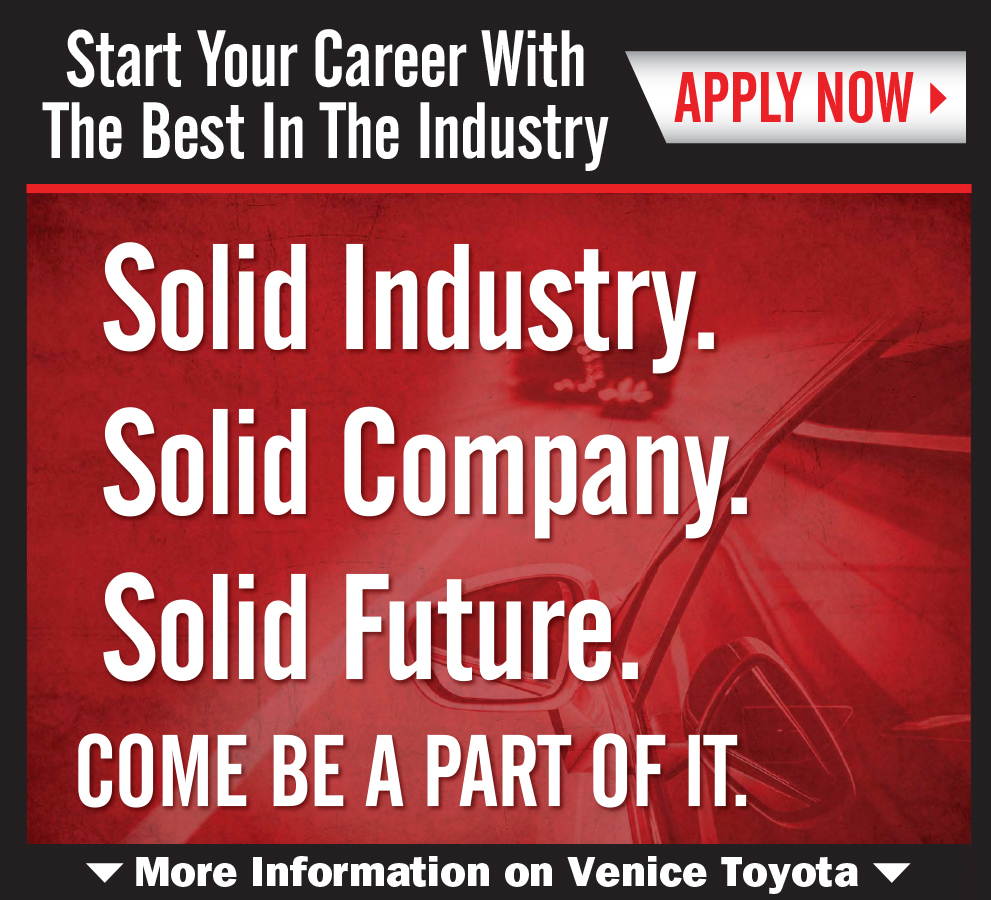 If you're looking for a career opportunity and want to be a part of a solid industry, a solid company and have a solid future, come start your career with the best in the industry and be a part of Venice Toyota in Florida. We're always looking for bright minds who share our passion for the Toyota brand and treating people right. If this sounds like you, we encourage you to apply for an open position at Venice Toyota today!
Why Venice Toyota in Florida?
There are many reasons Venice Toyota near Bradenton, FL, is the right place to begin your Toyota career. First off, you'll be a part of a company that's trusted by the community and dedicated to providing customers with an award winning experience. You'll also represent the most reliable, dependable vehicles on the market. Plus, with Venice Toyota, you'll receive attractive employee benefits.
Why the automotive industry?
While other industries may be struggling, the automotive industry has had impressive six consecutive year over year sales increases, and 2016-2017 automotive growth is expected to continue that upward trend. The National Automotive Dealers Association (NADA) even states that new vehicle sales in the U.S. will grow to 17.7 million units in 2016/2017, up nearly half a million from the 2015 projection of 16.9 million. The NADA also predicts the economy will continue to improve, interest rates will stay low and gasoline prices will continue to stabilize, encouraging new-vehicle sales to rise more than two percent to nearly 18 million units in 2016/2017. Along with an economy set for automotive growth, dealerships have the opportunity to be a trusted source for Generation Y consumers, as Gen Y is projected to account for 35% of new car purchases within the next year. It really is an exciting time to have a career at Venice Toyota.
What's in it for you at Venice Toyota?
If you're new to the job market or are looking for a change, at Venice Toyota in Florida, we offer top-end industry compensation with no prior education or degrees required. We have career opportunities in Sales, Service, Parts, Finance and Admin/Clerical, and depending on your desired position, you'll have opportunities for bonuses. A career at Venice Toyota means you'll be a part of a team that cares about you and your success, and best of all, you'll enjoy coming to work.
If you're in the Venice, Bradenton or Sarasota areas, don't wait to begin your career with the best in the industry at Venice Toyota in Florida! Fill out our online application to apply now!
Apply Now