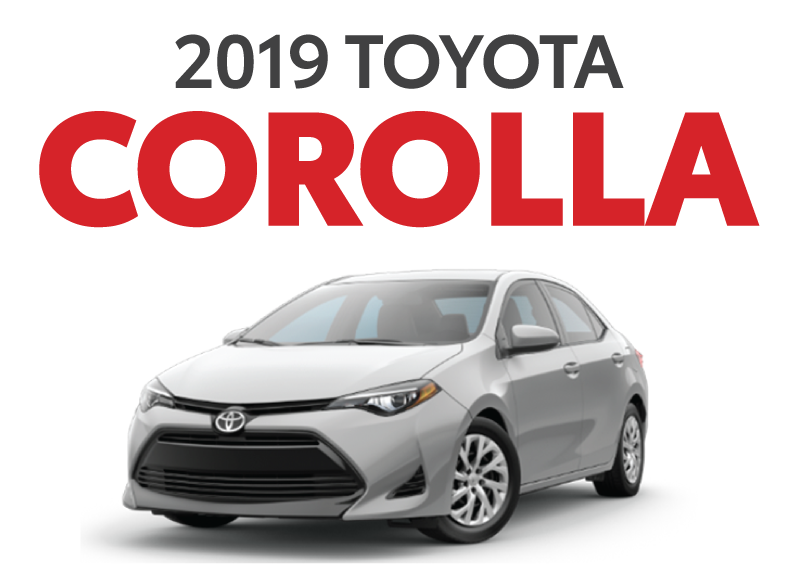 The Toyota Corolla Offers Comfort, Style and Sophisticated Features
When it comes to intelligent design, the Corolla's distinct appearance can be deceiving. With a sleek exterior that is certainly capable of standing out on any road it undertakes, its aerodynamic design offers more than just aesthetic appeal. The Corolla's sophisticated headlights, chic taillights, refined bumpers and flat floor design all contribute to the Corolla's impressive fuel economy as well. The Toyota Corolla balances fun and fuel by offering an outstanding fuel economy, so you'll have a smile on your face as you drive past each and every gas station. Since adventures aren't only about the destination itself, the Corolla offers a comforting interior with intuitive technology for everyone to enjoy that makes the getting there just as exciting. Since conditions can be unpredictable, you can always feel assured that you and everyone inside are well protected at all times. The Toyota Corolla has state-of-the-art standard safety features that not only focus heavily on the inside, but have accident preventative measures for the exterior too.
Advantages That Come with a 2017 Corolla
Consistently updated to not only stay ahead of its competition, the 2017 Toyota Corolla manages to surpass expectations by offering more standard options each year that its fans desire. What used to be offered only for the 2016 Special Edition model - is now standard for all SE models. You can now have any 2017 Corolla SE grade in its available Blue Streak Metallic exterior color, which is truly one of the Corolla's boldest colors. Now that you'll be heading places in assured confidence, you can also head there with convenient tech too. The 2017 Corolla XLE and XSE grades now come standard with Qi-compatible wireless smartphone charging and an integrated Entune Audio Plus multimedia system with navigation. With these new additions, it'll be more about the enjoyment behind the wheel than what's at the destination.
Read more.
A Look Into the Corolla's Past
Dating back to its origins in 1966, the Toyota Corolla has undergone more than ten generations with ground-breaking modifications in each one. Always having practicality and safety in its design, the 11th generation went in an alternative direction that still kept those essential features in its design… But with a whole new look. Having a global product concept of, "Exceeding Customer Expectations" the Corolla engineers wanted to debut a completely revitalized Corolla that would stand out from the rest of its competition. Thus created the 11th generation Corolla with a daringly advanced design and dramatically improved dynamic drive performance.

Buy or Lease the 2017 Corolla at Venice Toyota?
At Venice Toyota we do more than just sell cars here; we work with you to ensure that your next Toyota vehicle is long lasting as well as affordable. Drivers expect superior performance, cutting edge technology, and exquisite style from a Toyota Corolla in Venice, and as a dealership, that means we owe it to you to give you our all. Visit our Toyota dealership in Venice, FL to see what has brought so many drivers from nearby Venice, Sarasota, Bradenton, Osprey, Englewood, Punta Gorda, or Florida to Venice Toyota.